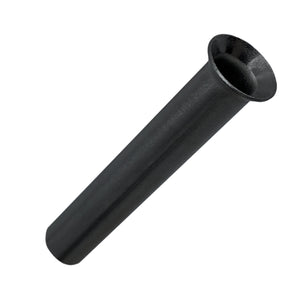 Included

1 qty blackened stainless steel wood protector sleeve
Overview
Designed to accept 1/8″ or 3/16" diameter stainless steel cables. Our black stainless steel cable sleeves create a protective barrier between cable and wood posts. Flared on one end so they can be driven into a 1/4" diameter hole with a rubber mallet. Give that splintered hole in your wooden post a more "finished and professional" look. Use 2 qty per intermediate post and insert one from each direction. Use protector sleeves when bending cable around corners to prevent the cable from digging into the wood post under tension. Shipped with a lubricating oil coating to prevent scratching during transit. Cleaning off the lubricating oil with a rag prior to installation is recommended.
Please Read this disclaimer before selecting this product for salt air environments.  Click Here 
Specifications
Item number: K-PS-B

Blackened finish*

Made from type 316 stainless steel
Designed to be used with 1/8" diameter or 3/16" stainless steel cable
See the "Dimensions" tab for physical sizes and hole drilling information
Made in the USA

* By nature, patinas may be mottled in appearance. This should not be considered a defect.
Click Here for instructions on handling and care of "black oxide" cable and fittings.
Dimensions
Black Wood Protector Sleeve
Cable sleeve
Easy to install look good
Win - Win item!
The Protector Sleeves were a simple and quick way to make my cable rail system on my deck look more customized and gorgeous.